Winter Meeting
Wrightsville Beach, North Carolina — January 24–25, 2014

We have some beautiful beaches in North Carolina, and many people vacation on them in the summer. But have you ever been to those same beautiful beaches in the winter time? If not, you are in for a treat. Our field trip line-up covers the ocean, fresh and saltwater marshes, ferry rides, islands, maritime forests, lakes and streams.

Carolina Bird Club

Club News
Pay your dues online! It has never been easier to pay your dues. Whether you are joining as a new member, or are a current member who needs to renew, just click on the Join the CBC link in the upper left corner of any page, and you can make a secure credit card payment.
The Carolina Bird Club supports Bird Friendly® Coffee: Attention CBC Coffee Drinkers – Save songbirds – Help the CBC! Birds & Beans only sells Smithsonian Cert­ified Bird-Friendly coffee. This is the most songbird-friendly certification and the only certification endorsed by the CBC Executive Comm­ittee. The coffee tastes great and every bag you buy will return $1 to the CBC.
---
Bonus Trip to the Chesapeake Bay Bridge Tunnel and Chincoteague NWR, February 22–23, 2014
We are offering a chance to bird two of the more interesting sites along the mid-Atlantic coast, the Chesapeake Bay Bridge-Tunnel (CBBT) and Chincoteague NWR.The CBBT complex's four man-made rocky islands act as a magnet for sea ducks, gulls, and other birds. With luck we should be able to leisurely study each of America's three scoter species (birds more often than not seen in distant, fast-moving lines), enjoy the spectacularly plumaged male Long-tailed Duck, search for shorebirds (including Purple Sandpiper) on the rocks, compare the various plumages of Great and Double-crested Cormorants, and hope for a rarity or two like Common Eider, Common Goldeneye, King Eider, or one of the uncommon gulls.
(Sorry, the trip is full—waiting list only.)
---
Blue Ridge Parkway bonus field trip
Rain. Fog. Wind. The bane of birders everywhere. But the trip tallied a total of fifteen warbler species and sixty-seven species overall.
---
Fall meeting at Litchfield Beach, SC. We returned to one of our favorite locations, Litchfield Beach, on the weekend of 27–28 September 2013, and were rewarded with some of the best meeting weather in recent memory, and lots of great birds. A total of 161 species were recorded.
---
Christmas Bird Counts: You can find information about this year's Christmas Bird Counts in the Carolinas here. If you are a count organizer, you can update the information about your count.
---
Carolina Young Birders Club: Matthew Janson is looking to lead a new young birders club for ages 11–18. If you are a young birder, or know one, or are willing to facilitate the club's efforts, please email Matthew or visit the web site.
---
Caribbean coast of Colombia, January 10–18, 2014. Another Bonus Field Trip: Colombia is the number one country for bird diversity in the world with almost 1900 species—that is 18% of the world's birds in only 1% of the Earth's ice-free surface. There is no better destination for birding than this tropical country. With two coasts, on the Caribbean and Pacific, three cordilleras of the Andes, the Orinoco, and the Amazon, this country is filled with diversity, including 72 endemic birds!
---
Outer Banks Field Trip November 30–December 1, 2013. Join members of the Carolina Bird Club as we explore the Bodie Island lighthouse area, Oregon Inlet, Pea Island NWR, the ocean beaches of Hatteras and Bodie Islands and other "hotspots". The trip will focus on waterfowl and shorebird identification as well as building a broad trip list including everything from grebes to sparrows. Note: the trip is now full, "wait list only".
---
New way to access members-only content. This website has a large amount of content that is available to the public, but there are a very few things that we restrict to our club members, namely the most recent editions of our periodical publications, the Newsletter and The Chat. Until recently, access to recent issues has required a username and password that was published in the Newsletter and shared by all members. Now, that username and password are no longer valid. Instead, if you are a club member you will be able to create a personal login and password. When you go to open the most recent Newsletter, or a recent Chat article, you will be prompted to login. Only members can register a personal login. How do we know if you are a member? You can register a login only for an email address that we have on file. Unfortunately many of our email addresses go back pretty far and may no longer be valid, so if you find that we don't recognize your email, just let the Headquarters Secretary, Carol Bowman , or the webmaster, Kent Fiala , know what your current email is. For convenience, here is the link to register, and here is the link to login. The login link is also near the bottom of the navigation sidebar on the left side of every page.
---
Finding Birds in South Carolina is here! Robin Carter wrote the definitive guide Finding Birds in South Carolina, published by the University of South Carolina Press, in 1993. After the new editor of the Press decided not to reprint or revise the book, Robin requested and received return of the copyright. After Robin's death in 2008, his widow Caroline had the book digitized by Lulu. Through Caroline's generosity, the full text of the book, in searchable PDF image format, is now available for download. Although the book is 20 years old, most of the information is still useful for finding birds.
---
Wasn't it just last January that we braved unusually cold weather at the CBC meeting? The same was in store for us at the Spring meeting in Asheville, 3–4 May 2013, but we still had a good time and collectively observed 154 species.
---
Accipiter primer: Do you have trouble identifying Accipiters? Brush up on your skills with Mike Tove's Identification primer: Accipiters.
---
Winter meeting: At the Winter meeting on the Outer Banks on the weekend of 25–26 January, 154 CBC members braved cold winds, ice, and even a little snow, and observed a fine list of species, currently standing at a total of 177 species. Highlights included Ross's Geese, Cackling Geese, "Eurasian" Green-winged Teal, Long-tailed Duck, Common Merganser (570 of them!), Eared Grebe, Great Cormorant, Anhinga, Golden Eagle, Glaucous Gull, Red-cockaded Woodpecker, Clay-colored Sparrow, Vesper Sparrow, Lincoln's Sparrow, White-crowned Sparrow, Common Redpoll. Send in any additions or corrections to the list.
---
How much do you know about CBC history? Attendees of the 75th anniversary Spring Meeting in Raleigh competed for the high score on a history quiz. How well can you do?
---
| | |
| --- | --- |
| | The Birds of North Carolina is now hosted at carolinabirdclub.org! This site aims to provide a compendium of all of the bird species recorded in North Carolina, with general information about their distribution in the state. It is a huge project by Harry LeGrand, with assistance from Ali Iyoob and John Haire, and technical wizardry by Tom Howard. Much of the data that underlies the project has come from Carolina Bird Club members, as published in Briefs for the Files and General Field Notes in The Chat, and now it has come home to the club web site, after a year at nature123.net. The permanent link "Birds of NC" in the navigation bar at the left will take you there. |
---
Band codes: MODO? RTHU? NSWO? Would you like to understand more about those four-letter bird codes? Read more about them.
---
Chat searchable database: There is a wealth of information about the birds of the Carolinas published in The Chat, and as another step toward making it more accessible, a searchable database covering all of the Briefs for the Files and Bird Records Committee reports from volumes 51–70 (years 1987–2006) of The Chat is now available. When was a Red-necked Stint last seen? Little Stint? Have we ever had a good year for Evening Grosbeaks? Find the answers quickly here.
---
Cumulative Chat index: There is a wealth of information about the birds of the Carolinas published in The Chat, and as another step toward making it more accessible, a 30-year index to The Chat, so far covering volumes 45–74, years 1981–2010, is now available.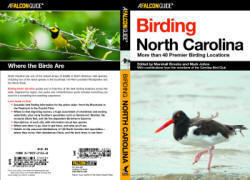 Birding North Carolina, the long-awaited guide to birding sites in the state, has now been published. Edited by Marshall Brooks and Mark Johns, this book features the best birding sites in North Carolina as chosen and described by the members of the Carolina Bird Club. The book is available from Globe Pequot Press.
Birding North Carolina was undertaken by the Carolina Bird Club for two purposes: to promote birding in North Carolina and to make birding more accessible to all skill levels of birders by providing information regarding the wonderful birding opportunities that we have in our state; and to further bird conservation by dedicating the income from the guide to bird conservation projects. Proceeds will go into a special account of the Carolina Bird Club to be used to support and further bird conservation projects in the state.
There are so many birding locations in North Carolina that not all of them could be included in the printed book. Descriptions of an additional 44 locations are published exclusively on this web site. Click on "Birding Sites: North Carolina" in the frame at left.
The Carolina Bird Club is a non-profit organization which represents and supports the birding community in the Carolinas through its official website, publications, meetings, workshops, trips, and partnerships, whose mission is
To promote the observation, enjoyment, and study of birds.
To provide opportunities for birders to become acquainted, and to share information and experience.
To maintain well-documented records of birds in the Carolinas.
To support the protection and conservation of birds and their habitats and foster an appreciation and respect of natural resources.
To promote educational opportunities in bird and nature study.
To support research on birds of the Carolinas and their habitats.
Membership is open to those interested in the study and conservation of wildlife, particularly birds. Is that you? Then join the club.
The Club meets three times a year (Spring, Fall, and Winter) at different locations in North or South Carolina, or occasionally in neighboring states.