Spring Meeting
Asheville, North Carolina — May 3–4, 2013

We hope you will join us in Asheville for the Spring CBC Meeting on May 3–4 when we gather again to make new friends, reunite with old ones, and enjoy a variety of field trips through the area's diverse mountain and valley habitats.

Carolina Bird Club

Club News

Pay your dues online! It has never been easier to pay your dues. Whether you are joining as a new member, or are a current member who needs to renew, just click on the Join the CBC link in the upper left corner of any page, and you can make a secure credit card payment.
Executive committee elections. The annual election of executive committee members was held at the spring meeting in Asheville. All board members who were allowed by term limits to continue in their positions did so. Ron Clark moved from Western NC Member-at-Large to fill a vacancy as Western NC Vice-president, and Jesse Pope was appointed to fill Ron's vacated position. Marion Clark completed his final term as President, and Katherine Higgins was elected the new President. Thanks to Marion for steering the club for the last two years, and congratulations to Katherine on her new role. The complete executive committee roster is here.
---
Finding Birds in South Carolina is here! Robin Carter wrote the definitive guide Finding Birds in South Carolina, published by the University of South Carolina Press, in 1993. After the new editor of the Press decided not to reprint or revise the book, Robin requested and received return of the copyright. After Robin's death in 2008, his widow Caroline had the book digitized by Lulu. Through Caroline's generosity, the full text of the book, in searchable PDF image format, is now available for download. Although the book is 20 years old, most of the information is still useful for finding birds.
---
It's Not Even Summer... But Start Thinking Fall! We are heading back to the South Carolina coast (Litchfield Beach) for the September meeting. We are in the heart of coastal birding for South Carolina. Just next door to our hotel lies Huntington Beach State Park, which is one of the choice locations for birding in the Carolinas. As of 2012, the park list stood at 315 species. In addition to HBSP, we have Bull Island, South Litchfield Beach, Myrtle Beach State Park, I'on Swamp, Waccamaw NWR, Samworth NWR and Santee Coastal Reserve WMA, to name just a few. Some of the species we hope to see include Red-cockaded Woodpecker, Wilson's Plover, Piping Plover, American Oystercatcher, Marbled Godwit, Short-billed Dowitcher, Glossy Ibis, Wood Stork, Black-crowned Night-Heron, Anhinga, Clapper Rail, and Common Ground-Dove.
---
Wasn't it just last January that we braved unusually cold weather at the CBC meeting? The same was in store for us at the Spring meeting in Asheville, 3–4 May 2013, but we still had a good time and collectively observed 154 species.
---
Accipiter primer: Do you have trouble identifying Accipiters? Brush up on your skills with Mike Tove's Identification primer: Accipiters.
---
Winter meeting: At the Winter meeting on the Outer Banks on the weekend of 25–26 January, 154 CBC members braved cold winds, ice, and even a little snow, and observed a fine list of species, currently standing at a total of 177 species. Highlights included Ross's Geese, Cackling Geese, "Eurasian" Green-winged Teal, Long-tailed Duck, Common Merganser (570 of them!), Eared Grebe, Great Cormorant, Anhinga, Golden Eagle, Glaucous Gull, Red-cockaded Woodpecker, Clay-colored Sparrow, Vesper Sparrow, Lincoln's Sparrow, White-crowned Sparrow, Common Redpoll. Send in any additions or corrections to the list.
---
Fall meeting in Greenville, SC: The Fall meeting, 28–29 September, continued the tradition of making each meeting better than the last. Wide-ranging field trips turned up 146 species of birds, and the evening sessions featured entertaining and thought-provoking presentations by Clay Bolt and Patrick McMillan. Thanks to meeting organizer Irvin Pitts and field trip organizer Jeff Click for their efforts. Online registration implemented through the efforts of Katherine Higgins contributed to the smooth organization.
---
How much do you know about CBC history? Attendees of the 75th anniversary Spring Meeting in Raleigh competed for the high score on a history quiz. How well can you do?
---
Birds of North Carolina:
their Distribution and Abundance

The Birds of North Carolina is now hosted at carolinabirdclub.org! This site aims to provide a compendium of all of the bird species recorded in North Carolina, with general information about their distribution in the state. It is a huge project by Harry LeGrand, with assistance from Ali Iyoob and John Haire, and technical wizardry by Tom Howard. Much of the data that underlies the project has come from Carolina Bird Club members, as published in Briefs for the Files and General Field Notes in The Chat, and now it has come home to the club web site, after a year at nature123.net. The permanent link "Birds of NC" in the navigation bar at the left will take you there.
---
Band codes: MODO? RTHU? NSWO? Would you like to understand more about those four-letter bird codes? Read more about them.
---
Chat searchable database: There is a wealth of information about the birds of the Carolinas published in The Chat, and as another step toward making it more accessible, a searchable database covering all of the Briefs for the Files and Bird Records Committee reports from volumes 51–70 (years 1987–2006) of The Chat is now available. When was a Red-necked Stint last seen? Little Stint? Have we ever had a good year for Evening Grosbeaks? Find the answers quickly here.
---
Cumulative Chat index: There is a wealth of information about the birds of the Carolinas published in The Chat, and as another step toward making it more accessible, a 30-year index to The Chat, so far covering volumes 45–74, years 1981–2010, is now available.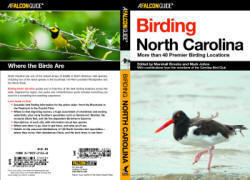 Birding North Carolina, the long-awaited guide to birding sites in the state, has now been published. Edited by Marshall Brooks and Mark Johns, this book features the best birding sites in North Carolina as chosen and described by the members of the Carolina Bird Club. The book is available from Globe Pequot Press.
Birding North Carolina was undertaken by the Carolina Bird Club for two purposes: to promote birding in North Carolina and to make birding more accessible to all skill levels of birders by providing information regarding the wonderful birding opportunities that we have in our state; and to further bird conservation by dedicating the income from the guide to bird conservation projects. Proceeds will go into a special account of the Carolina Bird Club to be used to support and further bird conservation projects in the state.
There are so many birding locations in North Carolina that not all of them could be included in the printed book. Descriptions of an additional 44 locations are published exclusively on this web site. Click on "Birding Sites: North Carolina" in the frame at left.
The Carolina Bird Club is a non-profit organization which represents and supports the birding community in the Carolinas through its official website, publications, meetings, workshops, trips, and partnerships, whose mission is
To promote the observation, enjoyment, and study of birds.
To provide opportunities for birders to become acquainted, and to share information and experience.
To maintain well-documented records of birds in the Carolinas.
To support the protection and conservation of birds and their habitats and foster an appreciation and respect of natural resources.
To promote educational opportunities in bird and nature study.
To support research on birds of the Carolinas and their habitats.
Membership is open to those interested in the study and conservation of wildlife, particularly birds. Is that you? Then join the club.
The Club meets three times a year (Spring, Fall, and Winter) at different locations in North or South Carolina, or occasionally in neighboring states.