The Chat Volume 78 Number 4 (Fall 2014)
Front Matter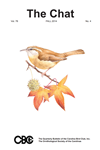 Cover Carolina Wren and Sweetgum (Liquidambar styraciflua). Original watercolor by Leigh Anne Carter. LACarter.com
Reports
2014 Spring Migration Counts in North Carolina Marilyn Westphal pp 117–149
General Field Notes
First Confirmed Nesting of Pine Siskin (Spinus pinus) in Great Smoky Mountains National Park Ron Hoff, Dollyann Myers, and Mike Nelson pp 150–154
Briefs for the Files
Summer 2014 Josh Southern pp 155–172
Index
A comprehensive index is a vital tool for research and the quick retrieval of information and citations from any printed source. The first index to The Chat was prepared by Thomas Quay for Volumes 1–4 and published in January 1941. The first annual index was prepared for Volume 22 by Kay Sisson in 1958 and an annual index covering each individual volume has been published every year since.
In 1964, Eloise Potter, with assistance from Rhett Chamberlain, prepared a 28-page bound Index to The Chat for Volumes 1–25. Ms. Potter published a second 20-page bound Index to The Chat in 1977 covering Volumes 26–40.
Over the years, the size of the annual index has grown. The most recent index for Volume 77, published in 2013, was 20 pages long and included over 3,000 entries for 394 species of birds, 907 observers, and 507 locations.
With the advent of the digital age, the need for a printed index has diminished. Kent Fiala, webmaster for the Carolina Bird Club website, has placed over 40 years of The Chat on-line for quick reference and has created a searchable database for immediate access to each issue. A printed index has become a duplication of what is available on-line. The Executive Committee of the CBC has therefore voted to suspend the printing of an annual index to save the printing costs. Please see Cumulative Index to The Chat.
Back Matter