If the map does not display within a couple of seconds,

the problem is probably one of the following:

On a slow-speed connection, you might see this message briefly while the page loads. Wait for it to finish loading.
Display of this page requires JavaScript.

Your browser may not support JavaScript at all. If that is the case, you will need to try a different browser in order to use this map.
Your browser may support JavaScript, but you have disabled it. If that is the case, you will need to enable JavaScript and reload the page in order to use this map.

You may be attempting to browse this page offline. You must be online in order to use this map.

Another choice is to use the alternate page below.

For more North Carolina birding sites, visit the North Carolina Birding Trail or local bird-finding guides.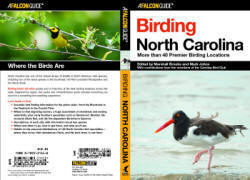 Birding North Carolina, edited by Marshall Brooks and Mark Johns, features the best birding sites in North Carolina, chosen and described by members of the Carolina Bird Club. The book is available from Globe Pequot Press.
Birding North Carolina was undertaken by the Carolina Bird Club for two purposes: to promote birding in North Carolina and to make birding more accessible to all skill levels of birders by providing information regarding the wonderful birding opportunities that we have in our state; and to further bird conservation by dedicating the income from the guide to bird conservation projects. Proceeds will go into a special account of the Carolina Bird Club to be used to support and further bird conservation projects in the state.
There are so many birding locations in North Carolina that not all of them could be included in the printed book. Descriptions of an additional 44 locations that were prepared for the book but could not be included in it are available on this web page.
---