Join the CBC's 75th Anniversary Celebration!
Raleigh, NC Spring Meeting
Renew CBC birding friendships and acquaintances from years past; walk in the footsteps of our founding members; join our cadre of young field trip leaders as we pass on the CBC legacy; reminisce about times past; and hear acclaimed author Scott Weidensaul.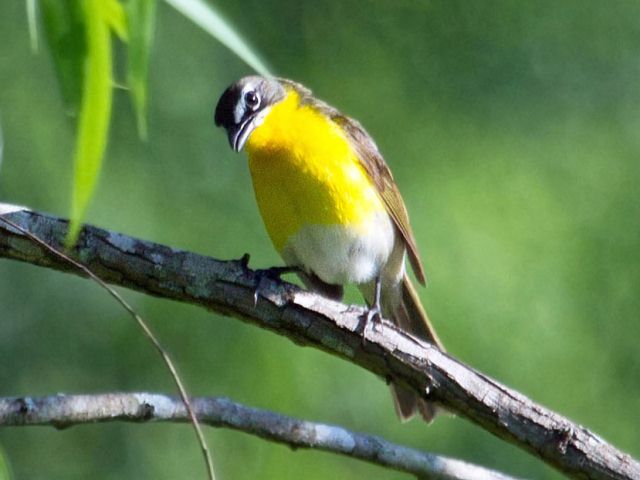 Yes, it's all part of our plans for the Carolina Bird Club's 75th Anniversary celebration May 4–5, 2012. We hope you'll join us for the festivities as well as some great birding in the Triangle. You won't be disappointed in our field trip destinations, our programs or the birds!
Our meeting headquarters is the Four Points by Sheraton, 1200 Claren Circle, Morrisville, NC 27560 near Raleigh-Durham Airport. Heading east on I-40, take exit 284A and turn right onto Airport Blvd, then left on Claren Circle at the Bojangles. Heading west on I-40, take exit 284 and turn left onto Airport Blvd, then left on Claren Circle.
The CBC room rate is $89 plus 12.75% tax. Room choices are one king or two queens. This rate includes a continental breakfast in our meeting room Friday and Saturday 6:00–8:00 a.m., and Sunday 7:00–9:00 a.m. The hotel restaurant, Spinners Bar and Grille, is open 6:00–10:00 a.m., and 5:00–11:00 p.m. Spinners offers a hot breakfast buffet for $7.95 for those wanting more substantial fare. The hotel also offers free high-speed internet, hair dryers, in-room coffee makers, indoor pool and fitness center. There are also numerous restaurants and fast-food eateries near the hotel.
The CBC room rate is guaranteed through April 20. Call 919-380-1221 to reserve your room. The cancellation date is April 26, or 7 days prior to your reservation. Check in is 3:00 p.m.
The hotel will provide our buffet dinner on Friday night at 6:30 p.m. Cost is $25, all inclusive. The menu will include non-vegetarian and vegetarian entrees, salad, vegetables, bread, and dessert. Pre-registration is required for the dinner.
After dinner Friday, be prepared for a look back across the decades, shared memories of birds and people, and no doubt a few tall tales as well! We'll start with a short retrospective of the CBC by decade beginning in the 1940s. You'll see some long-time familiar faces and no doubt be entertained with stories from the past. Clyde Smith will keep the evening moving as moderator. Come and reminisce or come and learn about the CBC history—either way, you can expect a memorable evening.
Saturday night we're excited to join with the Friends of the North Carolina Museum of Natural Sciences to host Scott Weidensaul as speaker. Our venue will be the Museum's new Nature Research Center, which officially opens on April 20. The Nature Research Center is an exciting new addition to the Museum for all of North Carolina's citizens. We hope you will join us to learn more about the Center and enjoy the evening activities.
The Museum partnered with the CBC to bring Scott Weidensaul to Raleigh for our meeting. For CBC participants, 150 tickets will be reserved and are included in your registration fee. They will be available until April 20, so your registration date is important if you plan to attend Scott's talk. Tickets are also being sold to help defray costs, so if you register after April 20, we cannot guarantee a free ticket to Scott's talk.
Triangle birding groups will host a dessert social and Scott Weidensaul book signing beginning at 6:30 p.m. at the Nature Research Center. The social will be a private event for members of CBC. The Center will be dedicated to our event for the evening to allow time to explore before the doors open to Friends of the Museum who have purchased tickets to attend Scott's talk. The Museum will have Scott's books for sale. You're also invited to bring your own books for Scott to sign.
Doors will open at 7:15 to the public who have purchased tickets. Scott's talk, Living on the Wind: The Miracle of Bird Migration will begin at 8:00.
We're delighted that the Museum of Natural Sciences has joined with us for our evening event, and we hope you'll join us to experience this new Center and the evening activities.
The North Carolina Museum of Natural Sciences (free admission) features nine different exhibit halls that show the diversity and depth of the state's natural habitats. From the coast to the mountains, birds are featured prominently throughout the exhibits. This is the perfect place to spend a morning or afternoon during your time in Raleigh. A featured activity for the weekend will be a Museum-based scavenger hunt—we'll provide the checklist, you find the birds.
Please read carefully all the details to register for this weekend. Some of our arrangements have specific cut-off dates for planning purposes. And as always, the early bird gets the worm so don't delay, register today!